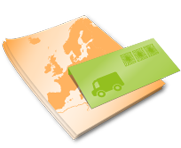 DELIVERY, E-BOOKS
with information on the delivery costs
EU-WIDE DISTRIBUTION
standard mail, UPS, DHL

maximum delivery costs: €99.90/£69.90

delivery of larger orders to Germany and Austria
free of charge!

E-BOOKS
e-book creation

we convert your doc or pdf files to e-book formats such as epub, mobi, etc.
GET YOUR
INSTANT
QUOTE
News
New clients automatically receive a 5% discount for placing our logo on the books!
Quick contact
EU15 COUNTRIES
Mgr. Ing. Jan Homola
e-mail:

jan.homola@tribun.cz
HEADQUARTERS:
Cejl 892/32
602 00, Brno,
Czech Republic
tel.:

+420 543 210 089


mob.:

+420 777 885 368
BUSINESS HOURS:
Po—Pá 09.00 — 18.00